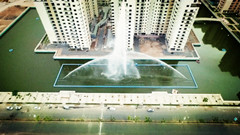 date_range

Posted On

: Aug 08' 2016
location_city

City

: Changsha
language

Country

: China
content_paste

Enquiry No.

: S-139600
library_books

Catalog

: Available Catalog
Floating Water Fountains are installed on the floating platform, which could rise or drop with the water level changes, so the fountain working would not be affected by seasonal water level difference.Floating fountain could be both Musical Fountain and Program Controlling Fountain.The floating platform are made by steel or stainless steel plates with anti-corrosion painting, which insures its servicing life.

Contacts Details

Changsha Himalaya Music Fountain Co.

Changsha Himalaya Music Fountain Co.