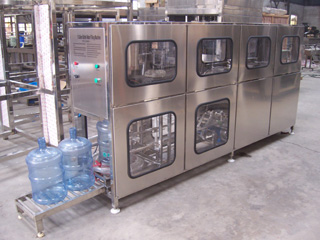 date_range

Posted On

: Jun 24' 2017
location_city

City

: Jiangmen
language

Country

: China
content_paste

Enquiry No.

: S-142017
library_books

Catalog

: Available Catalog
MODEL:XG-A100
Capacity:120 Bottles Per Hour

This machine is divided into four parts as below:
1. WASHING (Washing inside)
This part consist of carrying bottle, bottle holder, photo eye sensor, pushing bottle and washing pump
2.FILLING
This part consists of pushing bottle air ram, rotating bottle air ram, filling tap, capping, and pure water pump.

Contacts Details

Futian Drinking Water Equipment Co.

No. 2 Industrial Zone, Jiaobei District, Jianghai Road