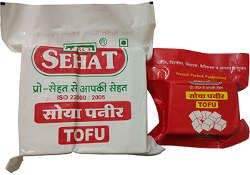 date_range

Posted On

: Jul 19' 2017
location_city

City

: Indore
language

Country

: India
content_paste

Enquiry No.

: S-142283
library_books

Catalog

: Available Catalog
Tofu is low fat, cholesterol free, high in protein, calcium rich and loaded with other essential minerals and amino acids. Tofu is among one of the best protein sources for vegetarians.
It stays Fresh longer! – Tofu can be kept refrigerated up to 30 days.
It isInexpensive – Tofu costs much less than dairy paneer.
It is Tasty! – Tofu can easily substitute dairy paneer in most Indian dishes.
It is Versatile! – It can be used raw, stir fried, sauteed, curried, scrambled or grilled.

Contacts Details

Plot No. 4, Sanwer Road, Narwal, Near Avantika Gas Plant, Sector-E