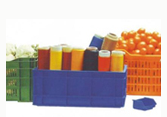 date_range

Posted On

: Aug 24' 2017
location_city

City

: Kolkata
language

Country

: India
content_paste

Enquiry No.

: S-142738
library_books

Catalog

: Not Available
Crates are useful for saving their transport and handling costs, as they are
stacked together. Crates are mainly produced in the model number of 600 x 400 mm
with different heights. Furthermore, the possibility of delivery in various colors.
The supplies of plastic containers can be trucks, which are designed for safe and
easy transport. It is possible to supply wheelchairs with different variations of
the loading deck.

Contacts Details

CALCUTTA CHEMICAL CORPORATION