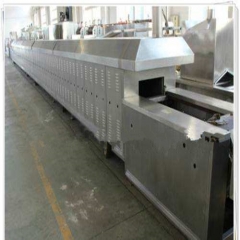 date_range

Posted On

: Oct 14' 2017
location_city

City

: Hengshui City
language

Country

: China
content_paste

Enquiry No.

: S-143235
library_books

Catalog

: Available Catalog
1.Electric Type
This tunnel oven is composed of oven tunnel, mesh belt , belt driving system, chimney, electric heating pipes and control cabinet.
The heater adopts infrared heating to make the biscuit baking equally.
Frequency inverts control cabinet makes more accurate temperature controlling and wider temperate regulate range
The oven is separate to several individual heating zones as per different formulas. Each Zone has can be regulated individually.

Contacts Details

Hebei Saiheng Food Processing Equipment Co.,Ltd