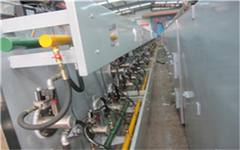 date_range

Posted On

: Oct 14' 2017
location_city

City

: Hengshui City
language

Country

: China
content_paste

Enquiry No.

: S-143236
library_books

Catalog

: Available Catalog
Gas Type
1)The machine is heated with gas(LPG or natural  gas).Rapid heating up and energy saving.
2)The oven is grouped into heat control zones. The top and bottom heat are independently adjustable and preset. The measured temperature and preset temperature will be displayed in digital form.
3)To allow independent movement of the chamber to relieve stresses when expanding or contracting.
4)High-quality thermal insulating material is used to get good insulation and efficient fuel usage.

Contacts Details

Hebei Saiheng Food Processing Equipment Co.,Ltd