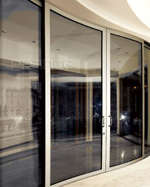 date_range

Posted On

: Dec 10' 2018
location_city

City

: Foshan
language

Country

: China
content_paste

Enquiry No.

: S-146926
library_books

Catalog

: Available Catalog
Advantages of aluminum doors and windows:
1. The product design is tight, ensuring excellent wind pressure resistance, shock resistance, and durability.
2. The profile design adopts the German standard hardware slot, which connects multiple lock points to achieve a good anti-theft function.
3. The door leaf is equipped with anti-shake device, which makes it flexible and convenient during the push-pull process, no noise.
4. Door fan slot width, flexible with hollow tempered glass.

Contacts Details

Foshan Prance Building Material Co. , Ltd

No. 251, Shengtang Industrial Area, Qicha Village, Lanshi, Fo