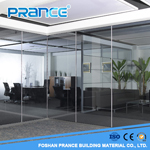 date_range

Posted On

: Jan 02' 2019
location_city

City

: Foshan
language

Country

: China
content_paste

Enquiry No.

: S-147084
library_books

Catalog

: Available Catalog
glass partition features:
1. During the use of glass partitions, the doors, windows, physical modules and partitions can be exchanged at any time and can be reassembled and reused. After the materials are disassembled and assembled, the damage is minimal, and the expenses incurred by the frequent relocation of offices can be greatly reduced.
2. Installation is faster than regular partitions.
3. The construction voice is small and does not affect people's working or life.

Contacts Details

Foshan Prance Building Material Co. , Ltd

No. 251, Shengtang Industrial Area, Qicha Village, Lanshi, Fo