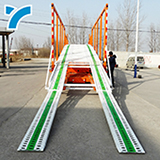 date_range

Posted On

: Jan 30' 2019
location_city

City

: ShanDong
language

Country

: China
content_paste

Enquiry No.

: S-147233
library_books

Catalog

: Not Available
1. Mainly used for carry cars.
2. Novel structure, lighter weight, higher strength, beautiful appearance and convenient operation.
3. Good stability and safety performance.
4. The vehicle is equipped with a toolbox, spare tire rack and a dripping brake system.
5. The chassis design with high bearing capacity and reliable performance.
6. Lifelong technical support.

Contacts Details

Xinya trailer manufacturing Co. Ltd

Xizhaomiao Village, Yangzhuang Town, Yuncheng County, Shandong, China